Welcome on the pages of the former German Airforce 321 Squadron, the former "321 Panther", "321 Morningstars", "321 Tigers".

We hope you find the information you need. We are open for any request. Just give us some time to sort out. Please bear in mind, that we are -at the moment - not able, to send or sale any stickers, patches etc..... to you!

Falsche Sprache?
Schalten Sie um auf Deutsch:
| | | |
| --- | --- | --- |
| | | |
| 321 Panthers | 321 "Morningstars" | 321 Tigers (1996-2012) |
The First (the better ;-) Squadron of Fighterbomberwing 32 is - as the whole wing - history. On 26/10/2012 the squadron was officially disbanded with a short military ceremony. Only few guests were present. The whole wing was officially disbanded on March 31 2013.
This site wants to show the work of the squadron and its former members and inform about the former squadron life and mainly the last weapon system, the mighty TORNADO ECR. The webmaster still owes loads of material in form of pictures and information about the whole lifetime of the unit and will feed this in on a regular basis - time permitting.
Besides this the support of the traditions and the history of the squandron and the friendships and contacts of its former members will be the main task of this homepage in the future.
As a side info for you: all the stuff from the former squadron buildings was brought to the military historical collection (MGS) of Lechfeld airbase and found there a worthy place. It can be visited by everybody. There is no entrance fee.
Counter-Box

last update: 22/04/2016

The myth lives on
"HOME" - Hot stuff and new features
---

Hi Guys! Greets from "Tiger Oiler".
---
Daily changing image - uploaded by our visitors
upload an image
---
22.04.2016
Please help!
Unique 321 Tigers Squadron watch, BREITLING NAVITIMER 249/250, serial No. 421616 stolen in Alamogordo / Holloman AFB (USA)! $ 1000 reward for information or for recovering the watch!!! Read below!!
QUICK & EASY CASH REWARD $1.000,00 - Watch stolen
October 16th 2014, in a confirmed 4 hour time frame while a cleaning services company made a "complete" cleaning in the owner's house in Alamogordo/USA with 6 personnel (3 Male & 3 Female)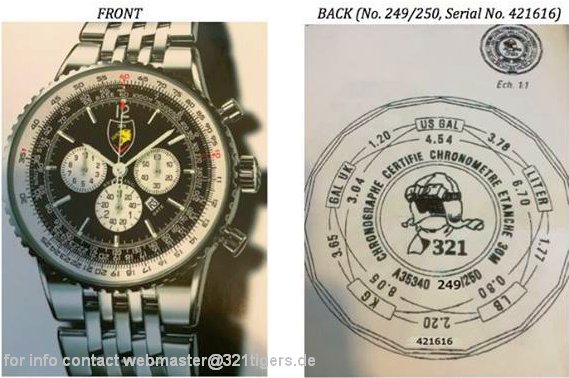 It is a unique Lechfeld 321 Tigers Squadron Watch, BREITLING NAVITIMER made of steel with steel wristband, only 250 of these existing in this world.
Identifying number on back is 249/250 serial No. 421616.
Model no. is A35340.
Indescribable sentimental value, having designed it in my flyingsquadron
Desperately wanted back!
YOU will get the reward for:
Returning the watch
Any Information you provide about that watch that leads to its return
Helping me searching for it and your search leads to its return
Who can help:
Personnel of the cleaning company – what do you know? Provide all info and you will no longer be a suspect
Anyone who witnessed anything related – seen or heard anything?
Anyone who wants to help the owner find it
Thief – yes, even you will receive the reward. The only thing the owner wants is the watch, he is not seeking revenge, nor to press any charges. Sentimental value is higher than its $ amount to him. You will not be able to sell it for more than this without its certificates. You will just highlight yourself and eventually face felony sentence!!! The owner will NEVER discontinue searching for it until he has it back. This is your unique chance to escape with an unmatchable gain. YOU only have to be quicker than everyone else around you – can you ever feel save again? Stop this, NOW!
Provide your information to:
Alamogordo Police Department, phone (US) 575 439 4300
or CONFIDENTIAL to the owner at 575 652 9499 (call & text, anonymously if you want, the owner will not disclose your identity).
this Facebook group: https://www.facebook.com/groups/1490542524554008/
webmaster of http://321tigers.de
Ask if you have questions.
---
WARNING: illegal copies of our Breitling squadron watch found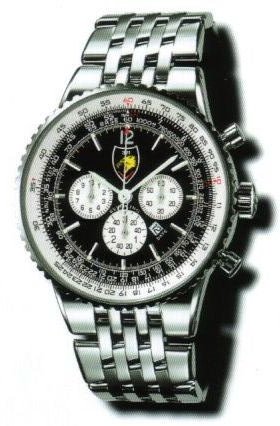 An important information for collectors and fans of our squadron watches: in the course of an internet search illegal copies of a 321 Lechfeld Tigers squadron watch came up. These are low-grade and unreliable versions of our model "Breitling Watches Navitimer Heritage A35340". These watches are offered by the company LVREPLICA under the name "Breitling Watches Replica Antique Style Men's Navitimer Heritage A35340". As confirmed through a phone call with Breitling is this company (as are any others ) - which has its home in Hong Kong - not lizensed to offer a replica. Also not authorized is the use of the 321 Squadron crest on this replica. Please do not let baffle you by the name "replica" in the offer. This is just an illegal product of some product pirates. Depending on the laws of your country you may incur a penalty.
You now may ask yourself why this replica pays off for the product pirates!? The fake watch costs € 363,63, the 321 original watch is traded by collectors with € 4000 and upwards (sometimes more, sometimes less). The original watches were limited to 250 pieces and each of them wears a unique number on its back like e.g. 010/250.
So, please keep up your eyes when getting an offer or when buying one of those watches. If its a fake one please contact your local police or customs agency.
update 10-09-2013
The Tiger lives on! Two videos of our last tigerjet model at the JET WORLD MASTERS 2013 in Meiringen, Swizzerland and Niederöblarn, Austria.

click the banner for construction report
September 20 2012 should have been and could have been the best date for the maiden flight of our little tigerjet in the course of the traditional Oktoberfest of FBW 32. But all plans were destroyed by some officials: no flying movements on this event - not even for little models. Only heaven knows ....
Thanks to Julius, that he took his time and came over from Swizzerland to show us at least some nice rolling exercises.
Here some impressions:
Wednesday 25-09-2012 was our mini-tiger for the first time in its elemant. Everything was perfect and Julius was very happy about the very stable behaviour while flying.
At the 10th JET WORLD MASTERS, 21.-31.08.2013, Meiringen, Swizzerland, eventually a good video of the model of our last tigerjet was taken. Because of "weight problems" Julius' jet was only a show element of this event and could not take part in that championship:
The tigerjet model in its element:
Julius at the Nitro Days in Niederöblarn, Austria, 20.-22. September 2013
02.05.2013
---
26.03.2013
The next to last two ECR Tornado from Lechfeld arrived in Schleswig
On 25.03.2013 at around. 08:00 the next to last two Tornado ECR from once 48 left FBW 32 and the Lechfeld (one last stayed back and will leave on March 28 2013). One of those two jets was the one with the "LAST CALL - Good-Bye Lechfeld" special paint. Nearly unnoticed by the public took the next to last take-off of a Lechfeld Tornado place. Only around 100 technicians of the wing formed a guard of honour along the runway and waved the departing jets.
On their way to Schleswig where all Tornado ECR are going to, at least those which will not be scrapped, ECR 46+54 und ECR 46+45 had to do a stop-over at Hohn airfield. The following pictures show the departure from Hohn in the afternoon:
In the afternoon the two jets continued on their way to Recce Wing 51 "Immelmann" in Schleswig. The following picures show approach and landing there.
"Hals- und Beinbruch and always Happy Landings in Schleswig", Schnief, we already miss you!!
19.03.2013
BAVARIAN TIGERS UNITED born
321 Lechfeld Tigers at its final end
March 18 2013 - as announced - the BAVARIAN TIGERS UNITED were born at FW 74 in Neuburg in the course of a formal roll call. The "Neuburg Tigers" are not a physical Tiger Squadron but more or less a tactical grouping of the two FW 74 Squadrons, the 741 "Falcons" and the 742 "Zapatas" ("It's better to die on your feet than to live on your knees") and given a tiger patch. After the founding of the BAVARIAN TIGERS UNITED in a symbolic act the "Tiger Spirit" of the disbanded 321 Tigers was handed over to the CO of the Neuburg Tigers.
After the official event in the "Alte Werft" hangar the guests were invited to the combined squadron lounge for an informal party with food and drinks. In the course of this party gifts were given to the attending Tigers from Austria and the belgian 31 Squadron and between the COs from Lechfeld and Neuburg Tigers. As a last act the last CO of the 321 Tigers, LTC Jörg "Atze" Schröder handed all the squadron's tiger insignia and ceremonial items to the CO of the Neuburg Tigers Marc "Turbo" Grüne. These were in detail:
the keys of the Tiger Car (Tiger deLorean)
the steel helmet with tiger stripes for the "Tiger Baptism Ceremony" master,
a mini-mini Tiger Moped,
a twin brother of our mascot, the Tiger Baby which was in the Guiness Book of Records 2000 and finally
a framed copy of our former squadron print, which shows our most famous tigerjet ECR 46+44 "Metamorphose" from 2001.
This was the very last formal/informal showtime for the famous 321 Lechfeld Tigers. They are gone forever!
14.03.2013
BAVARIAN TIGERS UNITED
321 Tigers Tigerspirit will live on with TFW 74 in Neuburg
Unbelievable but true: both squadrons of TFW 47 from Neuburg - the 741 "Falcons" and the 742 "Zapatas" - will become Tiger Squadrons and have the order to take over and carry on the Tigerspirit of the Lechfeld Tigers.
For the transition will be there an official roll call of the Flying Group of TFW 74, Monday 18-03-2013, on Neuburg airbase, where
the offical founding of the "BAVARIAN TIGERS" and
the official takeover of the "Tigerspirit" from the 321 Lechfeld Tigers" by Oberstleutnant Marc Grüne, CO of both fightersquadrons TFW 74 from Oberstleutnant Jörg Schröder, former CO of the Lechfeld Tigers
will take place. The BAVARIAN TIGERS will after that get right away the status of a "probationary member" of the NATO Tiger Association.
21.01.2013
The first ECR birds show up in Schleswig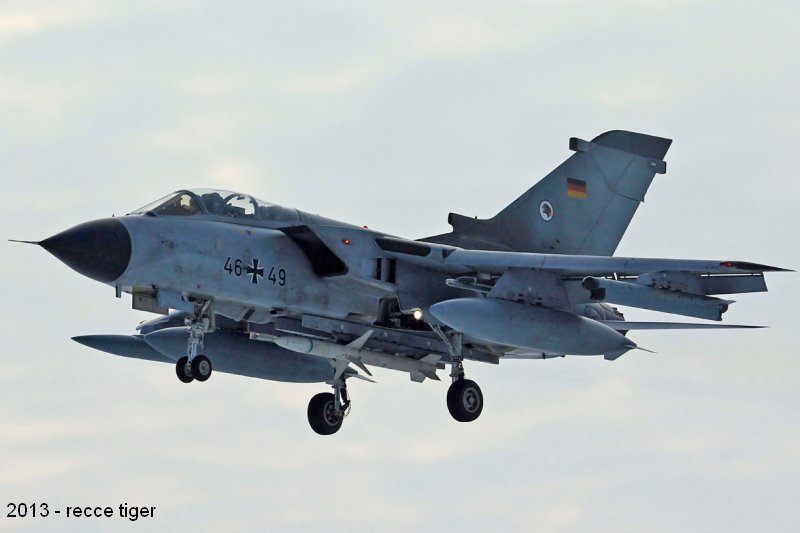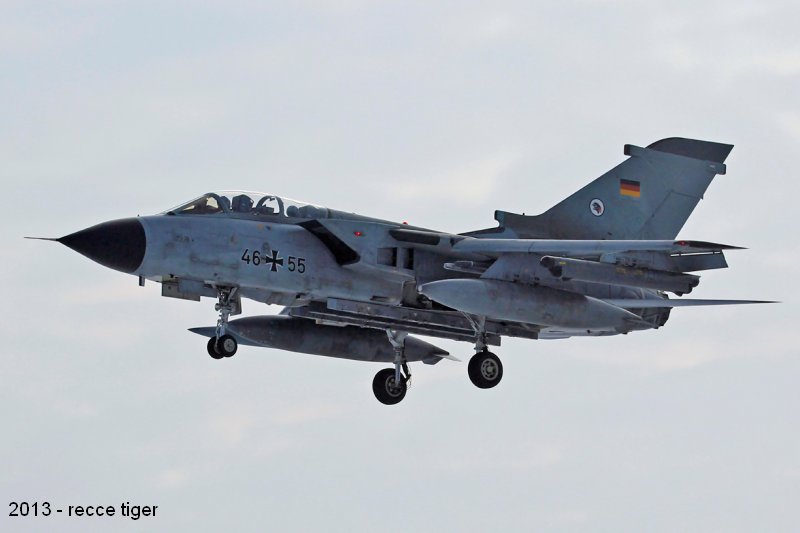 The first ECR TORNADO from FBW 32 in Lechfeld went on duty at RECCE Wing 51 "Immelmann" in Schleswig. The good side effect of this transfer: with the panther patch on the tail the ECR return to the NATO Tiger Association. According to the motto: "Once a Tiger - always a Tiger"!
---
22.11.2012
One "take-off"closer to the end
Today, the very last special painted Tornado Jet of FBW 32, the 46+45 "LAST CALL", a "final" desgn by Tom Marschik, was flown from the paint shop at the technical center in Erding, to Lechfeld, where it arrived late afternoon at marginal weather condition (AMBER). Piloted was the jet by the acting station commander (Kommodore) LTC Dohler.
Take-off in Erding. Thanks to Frank Schmidl!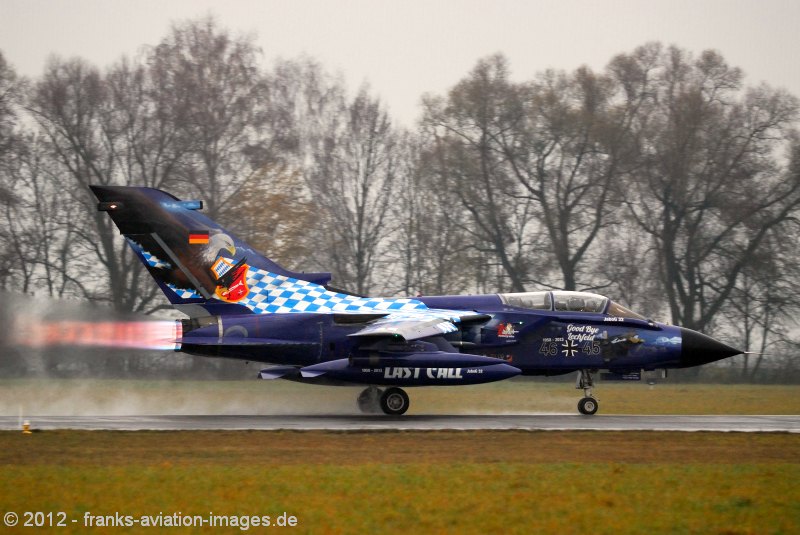 Arrival in Lechfeld
14.11.2012
Fighterbomberwing 32 says good-bye to public
Thursday Novemver 15 2012 a big serenade conducted by the Lufwaffe musical corps 1 was given for an official good-bye of FBW 32 to the public. With this serenade the wing draws officially back from public before it will be completely set out of order March 31 2013. Prior to this event a big muster took place in a hangar in the afternoon to discharge the wingcommander (Kommodere) Oberst Scheibl. The rests of the wing were taken over by LTC Dohler.
26.10.2012
Today, the 1st Squadron of FBW 32 (the 321 Tigers) was disbanded quietly.
In remembrance a picture from better times: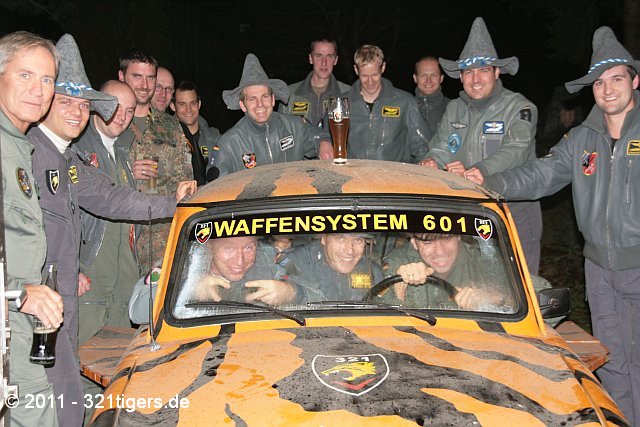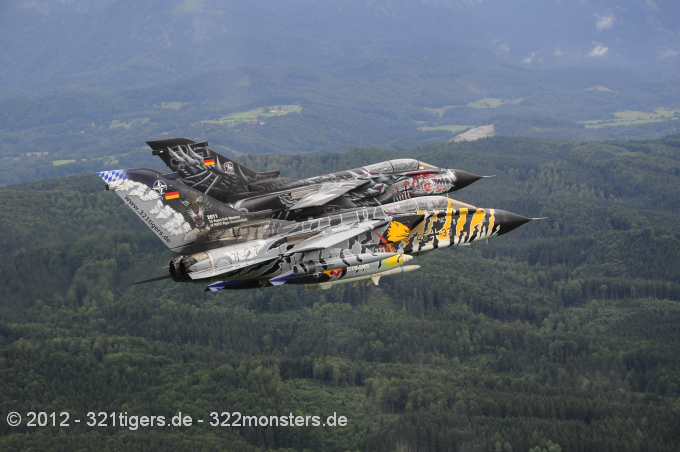 ---

---
15-06-2012
The timeframe for restructuring the Bundeswehr and the new stationing concept is public:
FBW 32 - and with it the 321 Tigers - will be disbandond on March 31 2013.
---
02.05.2012
According to a press release in the "Augsburger Allgemeine", the major local newspaper, will there be a last FORCE EVAL in March 2013 which - according to the Kommodore Oberst Scheidl - does not neccessarily mean that the wing could not also be disbanded in April 2013.
26.10.2011
This is the end, my only friend the end ....
GOOD-BYE LECHFELD TIGERS UND MONSTERS
Feierabend, Schluß-Aus-Mickey-Maus
The new concept of german Bundeswehr/Luftwaffe is official:
Fighterbomberwing 32 and with it of course the 231 Lechfeld Tigers (and 322 Monsters) are bound for disbandment!! According to the official papers of a new stationing concept in Germany the end of FBW 32 is determined. The airfield Lechfeld though will survive and remain open with a small ops section to serve as an alternate airfield for FW 74 in Neuburg and Testwing 61 in Manching. Also Premium Aerotech will continue to fly out Airbus parts with the Beluga from their production halls on the airfield.
According to newest press releases (please note: press news, not official Luftwaffe news) will the Wing already be closed end of 2012. One year to go dear friends and then this all will be history. Of course will this homepage be contiunued as long as possible to serve as a keeper of traditon and a forum for all former members of our history writing wing.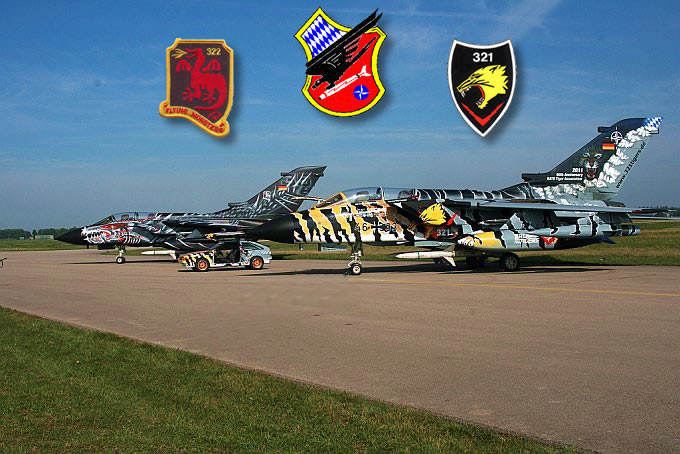 ---
Tigerjet Design Competition officially finished
On Thursday July 28 2011 finally the announced invitation of the design competition participants to the Lechfeld Tigers took place. Unfortunately by far not all participants could find the way to FBW 32 due to job or private reasons. Also inivted were the painters from Erding and Lechfeld.
The biggest highlight for everybody was the visit to the simulator and the short flight everybody was allowed to conduct with the Tornado.
---
18.07.2011
Tigerjet 2011 wins BEST LIVERY AWARD at Royal International Air Tattoo RIAT
After that the Lechfeld Tigers could not - against all expectations - win an award at the Tiger Meet 2011 for their Tigerjet design, they finally succeeded at RIAT 2011 and could win one of the prices there. Here the original wording from the official RIAT website:
.... And finally, the Best Livery award went to Maj Ingo Heinle and Capt Rene Lorgen of JBG 32, German Air Force with their Tornado ECR. They received the award from Gardiner Porter, Senior Manager, Military Global Sales for Jeppesen. Maj Heinle said: "The award belongs to the designer of our scheme, Joey. Thank you very much on his behalf." July 18, 2011
The Squadron Commander Maj. Schroeder with TOM, the creator of the winning design in front of our Tigerjet 2011 during the visit of the participants of our tigerjet design competition in the squadron July 28 2011l.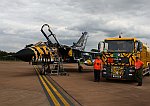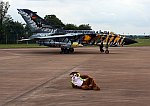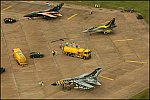 ---
28-05-2011
| | | |
| --- | --- | --- |
| | 321 Tigers 15 years full member of the NATO Tiger Association | |
Today the 28-05-2011 the Tigers celebrate their 15 year full membership in the NATO Tiger Association! The official ceremony took place during the NATO Tiger Meet 1996 in Beja, Portugal. On the picture above you can see the Lechfeld crew 1996 in Beja. Tiger-Tiger-Tiger roaaaaaaaaaaaaar!!!!
Million thanks for the picture to Stabsfeldwebel ret. Volker Schmidt!!
Tigermeet Newsletter der Armee de l'Air (PDF, in Englisch)
The Lechfeld Tiger "de Lorean"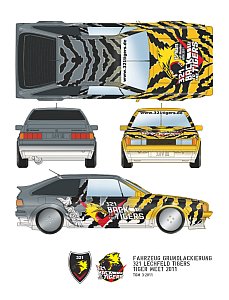 Many of you may have asked yourself what car is this in the tiger colours which looks so similar to our newest Tigerjet?
In close relationship to this year's Tiger Meet motto "Back to the Tigers" which in fact is derived from the movie "Back to the Future" an in which a de Lorean plays a special role the Lechfeld Tigers decided as a sign of their above average tiger spirit to put a special tiger car aside of their 2011 Tigerjet. This Tiger-Car not only looks from its shape very similar to the famous de Lorean from the movie it also has got upward swinging doors and a real "Flux Generator" mounted underneath the back window.
Special thanks of the Lechfeld Tigers go to Markus "ALI" Meier, who gave this car as a gift an did all the modifications to a de Lorean, including the swing doors, together with his team. It was painted in Erding right next to our Jet by our paintbrusher Joey.
The designer of our new Tigerjet Tom, designed also the cover of the car and made up the plans for it.
The car was handed over to the new "Bavarian Tigers" from FW 74 in Neuburg, when the Tigerspirit was handed over to them in an official ceremony.
Tigermeet 2011 Impressions by Markus "ALI" M.
Departure to the anniversary Tiger Meet 2011 in Cambrai!
Yesterday 09-05-2011 started the 321 Tigers with their assigned airplanes to the Tiger Meet in Cambrai, France. The following ECR Tornados went airborne and arrived safe at their destination:
ECR 46+33 - The brandnew 2011 Tigerjet and new figurehead of the squadron,
tactical callsign "Tiger", landing 11:20 local time.
ECR 46+29 - The Tigerjet from 2010, also know as "Lego Bomber", of course with its controversal digital tiger painting.
tactical callsign "Lego", landing 11:20 local time .
ECR 46+44 - The former "Metamorphose" Tigerjet from the Tiger Meet 2001. This time unfortunately without this spectacular painting which is gone for a long time already. The participation of this jet will let the former participants remember these good old times.
landing 11:21 local time.
ECR 46+46 - As a buddy and spare aircraft,
landing 11:21 local time.
Here some pictures (thanks to ALI!!):
---
14-04-2011
Welcome to Lechfeld - the new tigerjet

---
07-04-2011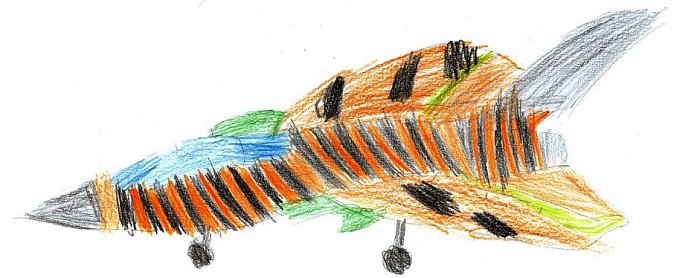 Tigerjet 2011- Information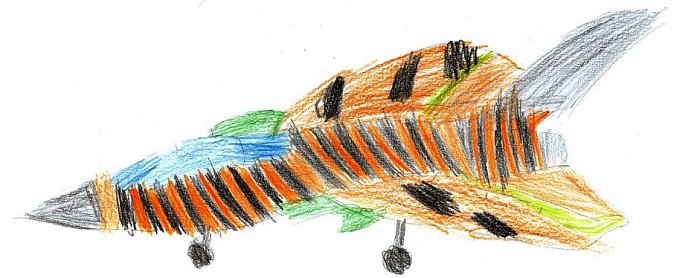 Since end of March TORNADO ECR 46+33 is for painting in Erding with the department for "surface technics" at the so called " SysZLfzT" (System Center for Aircraft Technics). There - with help of MSgt. Waldinger and his experienced team - plus the sprayer specialist Joey from FBW 32 and his doughter, transformation to a tigerjet takes place. To support the works as much as possible the winner of the competition Tom has brought a printout of the design in the size of 3m x 1m. It helps a lot to bring up the design as exact as possible onto the fuselage. Further on he brought vector graphics of most of the desing and text elements which easily make it possible to produce those with help of a cutting plotter.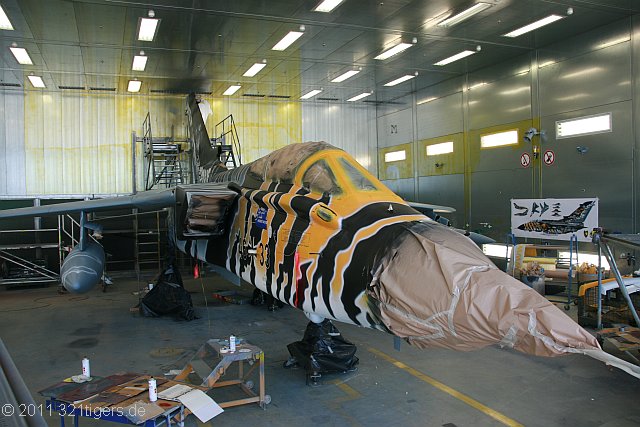 The transfer to Lechfeld is planned in the 3rd or 4th week in April during a special night flight mission.
More info about the making of our new tigerjet shortly.
---
| | |
| --- | --- |
| The jet airplane print art internet shop. Here you find all of the 321 Tigers tigerjets (and much more) as high value posters, single or as collection sets, or in a calendar. | |
---
01.02.2011

---
15.10.2010
The Tiger Meet 2010, which was conducted 04.10.-15.10.2010 at 313 Sqdn, RNLAF, Volkel AB, Netherlands, is over, and was once again the highlight out of all military exercises and last not least also the flying higlight for all participating aircrews.

A youtube video about the Nato Tigermeet 2010
---
Goose Bay - in remembrance of

Goose Bay is the designated NATO low and lowest flying area in Labrador, Canada. A few years ago Germay cancelled its low flying training and withdrew from Labrador.

The pictures of this album were made during one of the last turns and will give you a little impression of the flying events as well of the pasttime action of one of the most beautiful and effective trainings in NATO.
---
08-05-2010
Exercise ELITE 2010

The corner data for the exercise ELITE 2010 are officially published :

Time range 17.06.-01.07.2010
Aircraft Deployment: klick
Spotterdays : Heuberg 22.06., Lechfeld 24.06.; accreditation form pdf doc , important info for accreditation on luftwaffe.de
---
22-07-08



Fighterbomberwing 32 was celebrating its 50 years of history with a big family fest Saturday 26-07-08. This event was not as big as a regular "Open Doors Day" because there was no flying and the area was also restricted. There was a lot of military equipment though and of course all kinds of german and international jets, props and helis and also some historic stuff (Transall, Breguet Atlantique, Bell UH 1D, BO 105 PAH, EC-135 (Police), SAR Heli, CH-53, Do-27, Piaggio, Piper L18, L-39 from Hungary, Italian Tornado from Piacenza, Hawk SAM, Mirage 2000, B25 Mitchell (RED BULL), Corsair (RED BULL), Boeing Stearman (RED BULL), Tiger-Alfa Jet (RED BULL), JU-52 (from Switzerland), YAK 52. There was also a large side program with all kinds of activity. Unfortunately - for funding purposes - has every visitor above age 16 to pay an entry fee of EUR 2.- (otherwise the defense budget of the Federal Republic of Germany might be endangered ;-))
For more information and the official leafleat please change for a short while to the german Home section.
Exercise ELITE 2008

Starting July 3rd until July 17th 2008, ELITE, the biggest European Electronic Warfare exercise will take place at Heuberg Range in Southern Germany. Forces from overall 19 nations will train the electronic fight between flying forces and ground based air defense. NATO will support with E-3A AWACS (Airborne Warning and Control System).

We will support you in our ELITE section with all kinds of information which might be interresting for all of you, whether you are a professional media representavie or an interrested spectator.

Unfortunately was the webmaster this year not able to present more interresting information about the exercise and from behind the curtain. Sorry for that! Perhaps next time (2007).
23-03-2008
---
27-09-2007
Rollout and maiden flight of our 2010 tigerjet 46+48
Today 27-09-2007, flown by our young-tigers SMASH and SLIDER, 321 Tiger's new 2007 tigerjet took off for his maiden flight, which will bring him to this year's Tiger Meet in Norway. With them aboard, our Baby Tiger. At exactly 0800 Zulu (10:00 o'clock local) he took to the air and disappeared after a very short while into the dark and very low hanging clouds overhead the Lechfeld. He is accompanied by two other ECR jets, the 46+49 and 46+44 which went airborne a few minutes later. After a stopover at GAF base Wittmund in Northern Germany, they will be expected around 1400 Zulu (16:00 o'clock local) at Ørland in Northern Norway. More pictures of the tigerjet will follow in a short while!
Stopover at sunny Wittmund ETNT (many thanks Thomas Land):
10.09.2007
Breaking News: Tigers at the exercise BOLD AVENGER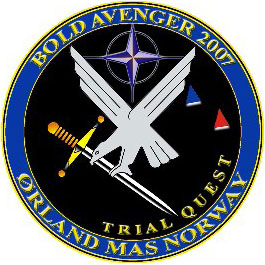 On 30th of August the 321 Tigers deployed 3 Tornados ECR and 5 aircrew together with the Flying Monsters to Ørland MAS, Norway. Here we are participating in the big NATO exercise Bold Avenger ( BAR 07 ), formerly known as NATO-Airmeet. The exercise is designed to provide training opportunities for all participating units in tactical air operations in a joint training environment involving over 100 aircraft, including combat, tanker and airborne early warning aircraft and about 1,450 personnel. Belgium, Canada, the Czech Republic, France, Germany, Greece, Norway, Poland, Romania, Spain, Turkey, the United Kingdom and the United States of America are the participating units .
17.06.2007
Mai 2007
Mini Tiger Meet 2007

The Tigers are back from the 2007 Mini Tigermeet in Aldergrove, Northern Ireland. Read a short article and see some pictures

here

.
14.02.2007
NATO TRIAL 'SPARTAN HAMMER'

A report of the participation of FBW 32 and the 321 Tigers at a NATO trial in Andravida, Greece, 06-11-2006 til 17-11-2006.

---
321 Tiger's squadron watches

The private watches of the 321 Tigers, are a rare piece for all collectors. Unfortunately - meanwhile - all of them are sold and the value for collectors is supposedly high!

Tiger's and Monster's Lechfeld ECR weekend-end chat

Every Sunday 23:00 Central European (Summer-) Time in the Lechfeld ECR chat.

Chat with the webmaster and 321 Insider.
Unfortunately we cannot guarantee, that you will meet somebody in the chat. But, be patient! Don't leave too fast. When everybody loggs out immediately when nobocdy is present, you will never meet anybody. The chat community is not very big at the moment, but will increase with the course of time if you stick to the upper rule. In case you want to meet somebody specific in the chat, contact the webmaster for coordination!

Tiger Jet, callsign LC-82A, doing Air-to-Air refuelling on an USAF KC-135 from 351 ARS, Mildenhall (UK), Callsign QUID 22, on 23. April 2002.

Thanks for the pictures to Dustin Pittman and Joel Jones, 351 ARS.

Events 2013 - eternity

At these events you can no longer talk to us, or buy patches, stickers and other stuff or just look at us. We are out of businness.

321 Wallpaper - Desktop Background Pictures
Pep up your boring desktop with a funky picture assembled of motivs of our site Just download the picture with the set reslution of your video and unzip it into the directory C:\Windows. After that, right-click on the empty desktop, select "Properties" from the opening menue and the the option "Desktop" in the next form. Then find the entry "321 wallpaper" in the "background" selection menue and select it. Leave the form via "OK".
Download: 640x480, 800x600, 1024x768, 1280x1024


Our weather

Find a place on this earth with the weather of your desire:

Weather around Lechfeld
Fast online search on our pages or in the internet with Google
Where do our visitors come from (count start 04-03-2009)
©
www.321tigers.de
---
[Home] - [321Tigers] - [NATO Tigers] - [Tigerbaby] - [Tigerjets] - [Patches] - [Pictures] - [Squdn Pictures] - [Fun Stuff] - [ECR-Tornado] - [ECR-Mission] - [Votes] - [Links] - [Chat] - [321 e-cards] - [Impressum] - [Contact] - [Service] - [Guestbook]
[Show Frames] - [Disable Frames]
---
Disclaimer
The 321 Tigerworld is a private site. This site is neither supported nor sponsored by the German Armed Forces "Bundeswehr" in any way.
This site is not an official source of the German Armend Forces "Bundeswehr" and does not show official information, intentions or views, but only the views of the authors and the webmaster.
Besides the possibility to introduce the visitor in a humorous and informative way into our world, it is of course our intention to do a good PR work for our "Luftwaffe", the German Air Force.